Glaad Media Awards
The 28th annual Glaad Media Awards ceremony took place in Los Angeles on 1st April and has been presided by Cameron Esposito. The Glaad Media Awards recognize and honor films, television shows, musicians and works of journalism for their fair, accurate and inclusive representations of the lesbian, gay, bisexual, transgender and queer community and the issues that affect their lives.
Find here the photos of the red carpet.
The second ceremony will be held on May 6 at the New York Hilton Midtown.
Here the full list of Glaad 2017 Winners 
Moonlight
Outstanding Film (Wide Release)
Moonlight
Outstanding Film (Limited Release)
Other People
Outstanding Comedy Series
Transparent
Outstanding Drama Series
Shadowhunters
Outstanding Individual Episode
"San Junipero" – Black Mirror
Outstanding TV Movie or Limited Series
Eyewitness
Mapplethorpe: Look at the pictures
Outstanding Documentary
Mapplethorpe: Look at the pictures
Outstanding Comic Book
The Woods, written by James Tynion IV
Outstanding Daily Drama
The Bold and The Beautiful
Special Recognition
Her Story (HerStoryShow.com)
We've Been Around (WeveBeenAround.com)
Sin Ir Mas Lejos by Gema Corredera
Here the list of Glaad 2017 Nominees for the second night on May 6 in New York
Gaycation
Outstanding Reality Program
Gaycation
I Am Cait
I Am Jazz
The Prancing Elites Project
Strut
Outstanding Music Artist
Against Me!, Shape Shift With Me
Blood Orange, Freetown Sound
Brandy Clark, Big Day in a Small Town
Tyler Glenn, Excommunication
Ty Herndon, House on Fire
Elton John, Wonderful Crazy Night
Lady Gaga, Joanne
Frank Ocean, Blonde
Sia, This is Acting
Tegan and Sara, Love You to Death
Outstanding Talk Show Episode
"Angelica Ross" The Daily Show with Trevor Noah (Comedy Central)
"Cookie Johnson" Super Soul Sunday (OWN)
"North Carolina and Georgia Anti-LGBTQ Laws" Late Night with Seth Meyers (NBC)
"Tony Marrero, Orlando Shooting Survivor" The Ellen DeGeneres Show (Syndicated)
"Trey Pearson" The View (ABC)
Outstanding TV Journalism – Newsmagazine
"Bingham" SC Featured
"Church and States" VICE on HBO
"Gavin Grimm's Fight" VICE News Tonight
"Life as Matt" E:60
"Switching Teams" 60 Minutes
"Gay Community in U.S. 'Forged in Fire" The Rachel Maddow Show
Outstanding TV Journalism Segment
"Gay Community in U.S. 'Forged in Fire'" The Rachel Maddow Show
"Interview with Florida Attorney General Pam Bondi" Anderson Cooper 360
"Many in LGBT Community Fear Changes under Trump" NBC Nightly News
"Terror in Orlando" PBS NewsHour
"Troop Turnaround: U.S. Military Transgender Ban Ended by Pentagon" CBS This Morning
Outstanding Newspaper Article
"An LGBT Hunger Crisis" by Roni Caryn Rabin (The New York Times)
"Mid-South Couples Celebrate First Year of Marriage Equality, But Challenges Remain for LGBT Community" by Katie Fretland, Ron Maxey (The Commercial Appeal)
"Nowhere to Go: LGBT Youth on the Move" by Arielle Dreher (Jackson Free Press)
"Permission to Hate" by Elizabeth Leland (The Charlotte Observer)
"Worthy of Survival" by Kathleen McGrory (Tampa Bay Times)
Outstanding Magazine Article
"Battle of the Bathroom" by Michael Scherer (Time)
"HIV Mystery: Solved?" by Tim Murphy (The Nation)
"The Official Coming-Out Party" by Kevin Arnovitz (ESPN The Magazine)
"On the Run" by Jacob Kushner (Vice Magazine)
"Rethinking Gender" by Robin Marantz Henig (National Geographic)
Outstanding Magazine Overall Coverage
The Advocate
Cosmopolitan
Seventeen
Teen Vogue
Time
Outstanding Digital Journalism Article
"105 Trans Women On American TV: A History and Analysis" by Riese Bernard (Autostraddle.com)
"After the Orlando Shooting, the Changed Lives of Gay Latinos" by Daniel Wenger (NewYorker.com)
"The Methodist Church May Split Over LGBT Issues. Meet the Lesbian Bishop Caught in the Middle." by Becca Andrews (MotherJones.com)
"These are the Queer Refugees Australia has Locked Up on a Remote Pacific Island" by J. Lester Feder (BuzzFeed.com)
"The Uncertain Olympic Future for Trans and Intersex Athletes" by Diana Tourjee (Broadly.Vice.com)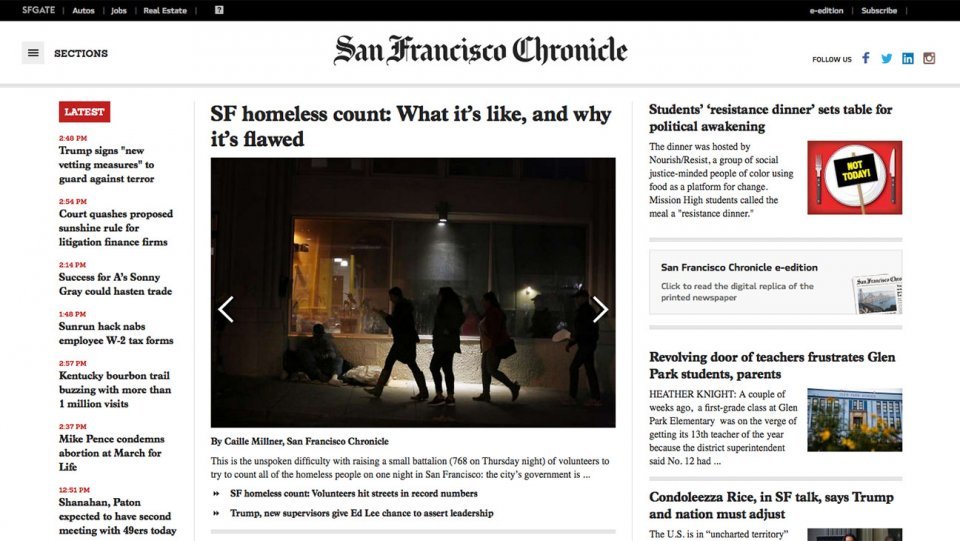 "Last Men Standing: AIDS Survivors Still Fighting for Their Lives"
Outstanding Digital Journalism – Multimedia
"Last Men Standing: AIDS Survivors Still Fighting for Their Lives" by Erin Allday (SFChronicle.com)
"New Deep South: Kayla" (TheFront.com)
"No Access: Young, Black & Positive" (Tonic.Vice.com)
"Unerased: Counting Transgender Lives" by Meredith Talusan (Mic.com)
"Willing and Able: Employment as a Transgender New Yorker" by Jordi Oliveres, Santiago García Muñoz (Fusion.net)
Outstanding Blog
Holy Bullies and Headless Monsters (holybulliesandheadlessmonsters.blogspot.com)
I'm Still Josh (imstilljosh.com)
Mombian (mombian.com)
My Fabulous Disease (marksking.com)
TransGriot (transgriot.blogspot.com)
If you want to assist to the ceremony, follow this link to purchase a ticket.
Follow us on Facebook, Twitter and Instagram for more update about cinema industry.